It all started with an idea...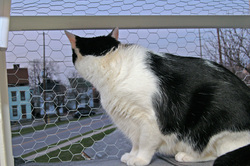 Our first prototype. We've come a long way baby!
In order to give his indoor cats an "outdoor" experience, Rich began tinkering with the idea of building a cat window patio for his house so that his cats could look outside, breathe the fresh air, and survey their domain. It wasn't long before the earliest prototype (shown here) was complete. His cats, Meezu and Herbert wanted to enjoy it even before he had secured it in the window!

When visiting Rich and his wife one afternoon and watching the cats enjoy their new window portal to the sights, smells, and sounds of the outdoors, it soon became apparent just how much this simple window patio had enhanced their lives. While both cats spent hours in it, Herbert would even sleep in the patio on occasion, not wanting to leave his special "room with a view" that looked out the second story window, over the garage roof, and toward the grassy meadow where the birds and squirrels played.

Neither Rich nor I had a lot of experience in carpentry or design before beginning this adventure beyond building and repairing things around our houses. But as a behavioral scientist nearing retirement, and Rich being already retired, we were both looking for something to do to keep ourselves out of trouble. Both of us enjoy our feline friends enormously, and after observing our own pets' enjoyment using the patios, we knew we could turn Rich's idea into something other cat lovers would equally appreciate. I soon began looking online to see what similar products existed, and while there were a few similar contraptions, most were aesthetically "ugly," not very functional, or cage-like, with metal bars. We knew we could do better, and after several months of hard work in our workshop and six prototypes later, our hand-crafted, Kitty Peeper cat window patio enclosure design was finished! Together we've applied for a patent, and while we're still just a two-man shop, we love the idea that we are enhancing the lives of so many deserving cats all around the country.

We both value our cats' love, friendship, and curiosity, and have long recognized how important it was to give our pets as much access to their natural outdoor environment as possible. (In fact, I actually walk my cat on a leash!) Our Kitty Peeper cat window patios have truly enhanced our cats' lives, and we welcome you to explore for yourself what fun it can be to...

... put your cat out a window!
Bill and Rich

---
---
Why Choose Us?
The discerning cat owner is faced with a daunting list of choices when considering cat products.
At Cats With An Altitude Crafts
, we take great pride in offering a product line that is unique, functional, and aesthetically pleasing.
Are there other cat window patios and enclosures available? Sure.
But nothing like ours.


Few commercially available things these days--much less in the pet business, are truly handmade and built in the US with components purchased through local supply centers, but that's precisely how we do things. Our core design uses reinforced pet-protective screening that blocks rodents and other animals that could spread disease to your pet, components that are cut and put together by hand, and a frame that sports a wood-grain finish which can be painted or stained.
Those features alone distinguish our product line from nearly all other cat enclosure systems available.


Our Kitty Peepers were designed to be highly appealing to cats. Said another way, we didn't just modify a dog enclosure or rabbit hutch and slap a "cat" label on it. For example, our design features a roof, which, in combination with the black screening, provides cats with a "prowl like," stealthy outdoor experience aligned with their natural instincts and desires, all without hampering their view or their safety.
But we didn't forget humans, who unlike cats, have credit cards and PayPal accounts. Our products were designed to be appealing and attractive, adaptable to virtually any residential space, and don't look like the plastic or steel "Jungle Jim" enclosures typically sold by our competitors.
Please look around our site. If you have any questions, we'll be happy to help. Just use our contact us page, and we'll be in touch before you can say "Kitty Peeper" five times fast!
Go to Home Page
Read Customer Comments

---
Cats With An Altitude Crafts is located in Lexington Kentucky.