Was That A Cat On A Leash? (article begins below)

If you arrived here from another site, please take a moment to review our Kitty Peeper Product!

To learn more about our Kitty Peeper window enclosures, watch our video! (click here)
or click here for more information!

(Article)

WAS THAT A CAT ON A LEASH?
Copyright protected. (2013)
All rights reserved. Linking to this article is permitted, as is printing a personal copy, but copying it, printing for distribution, or posting it on another website or webpage is prohibited

(Bill's advice for walking your indoor cat)

My cat Ty and I have been taking nightly walks for over ten years now, and have logged, literally, several months of time enjoying the outdoor environment around our home. We generally walk at night, and go out no matter the weather. Living off campus near a major university, we get lots of odd looks as we make our rounds. Some point, some stop to inquire, most simply smile. In fact, walking a feline pet is not terribly unusual, especially in metro areas where cats generally have few opportunities to enjoy the outdoors on their own for safety reasons.

In recent years, word has started getting out on how dangerous it is to allow a cat to go outside unsupervised, both in terms of their health and longevity, and also because outdoor cats are known to prey on other smaller animals. Walking an indoor cat, if done properly, can avoid these risks and enhance their overall quality of life. I started walking Ty mainly because I was concerned with his overall psychological and physical health. Our place isn't very big, and with Ty being an indoor cat, I knew it would be beneficial to him to have regular access to the outdoors, albeit in a safe, controlled manner. I can't begin to articulate how wonderful the experience has been for the both of us. Early on I recognized, by noticing his enhanced alertness, happily swishing tail, and his instinctual cat behavior during out time outdoors, that our routine was giving him back a fundamental component of his nature.

Over the years, I've helped several cats and their human companions enjoy this wonderful and bonding experience, but wanted to share my advice with a wider audience through my blog in hopes that those who have considered this idea will finally decide to take the plunge.

THE MOST IMPORTANT ADVICE: DON'T DO THIS IF YOU CAN'T MAKE A LONG-TERM COMMITMENT

My biggest concern in sharing my advice is that some may begin walking their cat, only to lose interest, leaving their feline companion suddenly disenfranchised from something they were enjoying enormously. While some will no doubt give this a try only to discover their pet is not interested in going outside, it would be downright cruel, in my opinion, to suddenly stop walking a pet that had grown accustomed to having a daily adventure outdoors. Please Please PLEASE don't try walking your cat unless you're willing to make a long-term commitment to giving your cat a daily walk.

So what is the commitment anyway? As I explain below, I recommend walking your pet once a day—no more, no less. If you work all day, or simply like to get some fresh air in the evening, walking your feline for ten or twenty minutes is not a terrible hardship, and can result in an even stronger bond between the two of you.

MAKING PREPARATIONS AND GETTING THE RIGHT EQUIPMENT

There are many things to consider before deciding whether to try walking your cat. Is your cat particularly skittish? Has it been an indoor cat for many years? Is she/he an older pet that might not be comfortable with change? While many cats in each of these categories might adapt very well to a daily outdoor walk, it's a good idea to consider these and other factors before deciding to proceed. You know your cat and its personality, and you are in the best position to decide whether to proceed with this activity. That said, even if you have some initial doubts, you can always give it a try, and stop if it doesn't seem to be working. (Information on gradually introducing your cat to walking is below)

Before introducing your indoor cat to the outdoor environment, be sure to talk to your vet about needed vaccinations and protection against parasites. Even a ten minute walk can introduce your cat to some of the same risks outdoor cats are vulnerable to, but with proper protection, you can focus on enjoying the experience without having to worry about whether your feline friend is unnecessarily susceptible to preventable disease.

Consider your immediate environment. Are there dangers that are likely to be an issue, such as lots of roaming dogs? While there is no need to fear an occasional unleashed dog or other cat (I offer strategies for handling these situations below) if there are frequent issues with wild dogs or cats in your immediate surroundings, it might be best to refrain from moving forward with a walking regimen until you can be more confident in your ability to protect your pet.

There are three pieces of equipment you'll need to begin walking your cat: Collar, harness, and retractable leash. First, make sure that your feline has a break-away collar with a tag that has your address and phone number on it. Should your cat ever wiggle out of its harness while outside, you are more likely to recover your pet safely if you've taken this step.

Next, find a good harness for your cat. I recommend shopping for a harness at a genuine pet store, where you'll have a wide selection. In many cases, there will be a limited selection of cat harness's marketed for cats, so the best option is to look through the small dog harnesses for the widest selection. There are three important things to look for when shopping for a harness. First, make sure that any harness you consider is either a Velcro secured type or has break-away clips. A break-away collar/harness ensures that if your pet ever gets trapped or "hung" they will break free of their collar/harness when struggling to get away, versus being strangled. Is this likely to happen when you are out walking? Probably not, but Velcro flaps or break-away harness clips are common features in quality items, so don't settle for less.

Be sure that your strap-type harness is a two part harness with a component that separates the neck part from the chest part as shown in the sample pictures below. DO NOT get one that is constructed as a "figure 8" (bottom picture) as these can hurt a cat that strains against the harness while leashed.

(The below images were found on Google Images and are not the property of the author.
If you are the author or owner of these image(s) please let us know so we can properly acknowledge your work!)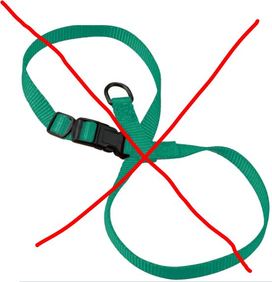 Finally, be sure to find a harness that properly fits your pet. You can use a cloth measuring tape to measure your pet's neck and chest size, and then take your tape and measurements to the store to find a harness that will work. Alternatively, bring your pet to the store in a carrier to shop if your store allows this (most do). You want the harness to be gently snug but not tight. How will you know? If you can easily put two fingers of each hand under the harness strap while your cat is wearing it, it should work well, but if it's "hanging" on the pet and can easily be slipped off, it's likely too large. Also, if you suspect your cat will have a hard time adjusting to a harness, find one that is "strap" design versus a "vest" design.
While there are many varieties of retractable leashes on the market, the old adage "you get what you pay for" applies when shopping for one. I recommend finding one made for small dogs, with a 25-30 foot nylon leash. I have tried smaller-length leashes, but believe that cats prefer having some "distance" from their human companion while outside and in "cat mode." If you have mobility issues or suspect that your cat will constantly "run out" the leash while out walking, a shorter one (15 feet for example) might be a better option. As long as you have a good harness as described above, a hard run-out won't harm the cat when he/she reaches the end of the leash.
INTRODUCING YOUR CAT TO THE HARNESS
Before training with the harness, if you haven't already placed a collar and tag on your pet, do that first. Cats will generally tolerate a collar with little discomfort, but if they've grown accustomed to the collar before training them to wear the harness, the process will be much easier.
There are two ways to approach the challenge of getting your pet used to wearing the harness. Both require some patience, but generally will lead to success. The first approach is to simply place the harness upon your cat while in the house, and let it get accustomed to how it feels. It's not unusual for a cat to initially try to remove it or scratch at it. If they are initially uncomfortable, take it off, then re-introduce them to it later in the day, perhaps right before you feed them their favorite treat or food. Give them time, and eventually, most cats will grow comfortable with wearing the harness around the house. If you do take this approach, I don't recommend leaving the harness on the pet while you're out of the house, where your pet might get hung up on an item of furniture or other household feature.
The other approach is to more directly associate the harness with "the walk." Even if the cat is initially uncomfortable with the harness, if having it put on is immediately followed by a pleasant outside adventure, they'll quickly grow accustomed to wearing it. (I offer more detailed suggestions about building a harnessing/leashing routine that your cat will recognize in the next section).
BUILDING A ROUTINE
Before we get too far into this section, I want to offer a few general suggestions. First, walk your cat once each day—no more no less. Why? Because even cats can count to one, and if you offer your pet more than one walk a day, you might introduce the problem of your pet constantly wanting to go back out for another walk. If your cat knows that they ALWAYS will get a walk, that they only get ONE walk, and that you ALWAYS pick the time for that walk, you'll have a much better experience in the long run.
Second, be prepared for bumps in the road. It is unreasonable to expect that your cat will quickly and easily take to this new experience like an old pro, especially if h/she has been an indoor-only cat for a long time. Patience is key to both eventual success, and promoting the experience as positive for the both of you. It may be that your idea of walking all over the neighborhood never happens when your cat shows no interest in going beyond the bushes in the front yard. But that's probably HUGE for that particular cat—so don't let your own expectations subvert the enjoyment of the experience for your feline. Just go with the flow.
One of the most common questions I have fielded over the years is related to what time of the day is best to walk. While some cats are very versatile in this regard, I believe that most prefer walking around twilight or in darkness. Cats are nocturnal animals, and their eyes work best in low light. During the daylight hours, activity around the house may be overwhelming to a cat who otherwise will be quite willing to go out at night. Of course, if a nighttime walk won't work based on your schedule, give day walks a try, but just be aware it may take additional time for your pet to become comfortable with the sights and sounds of an active neighborhood.
The next component to building a routine that your pet will recognize and associate with the walk is to establish a pattern to getting ready to go outside. In order to explain this idea, I'll share my own routine with my readers. I have Ty's harness and leash in a drawer in the kitchen behind a bar stool. When it's time for his walk, all I have to do is open the drawer, and he comes running into the kitchen, and hops right up on the stool so that I can put on his harness. No matter where you decide to keep your cat's harness and leash, the important thing is to establish a routine that says "Time for our walk!" Once the routine is established, you'll notice that your cat may even "help" you get the harness on by standing up, and "bending" so that you can secure the harness. Early on in our walking experience, Ty would be so excited that he often would have a hard time standing on the stool, and would constantly jump up, then back down, then back up. But eventually, he got the idea, and is now quite helpful in facilitating the process so he can get outside. Like all aspects of this experience, patience is the key to success.
Another general suggestion I have for the "beginning the walk" routine is to ALWAYS pick up and carry your cat across the doors' threshold after you've attached the leash, then put them down once outside. Why? Because you want to train them to always associate going outside with being in your arms, and not walking out on their own four paws. I believe this helps to discourage them from bolting out the door during non-walk times. Keep in mind that your pet may enjoy the walk so much that they suddenly become much more interested in going outside, and this in turn may encourage them to try and escape. I went through this with Ty, but eventually, he learned that he was never to go through the doorway unless I was carrying him. (This is yet another reason why you always want to have a collar and tag on your pet once you start this process).
BABY STEPS AT FIRST, THEN.....
While much of the advice thus far is fairly straightforward and applicable to most situations, once you and your pet have walked through the door to the outside for the first time, the experience can be quite different from one cat/human to the next. For many cats, the experience of being outdoors—even if just on the porch or walkway (or apartment hallway even) can be initially overwhelming. If you find that your cat is uncomfortable, grab a chair and with the leash still on, sit with them right outside the door. Let them explore around the door, and maybe sitting in your lap a bit if that's what they want to do. It may be that you have to repeat this process over a period of several days, but in virtually all cases I've been involved with, once the pet recognized this was his one and only opportunity to be outside for awhile each day, their instinctual curiosity and sense of adventure eventually overtook their initial apprehension.
As I noted before, some cats may never want to explore beyond the bushes in the front yard, while others will want to take off and explore the world! Let your cat guide where you go, and as long as it's a pleasant experience for them, they will gradually build self-confidence and a routine they are comfortable with.
While you are actively walking your cat, use only gentle tugs on the leash to nudge them away from an obstacle such as underneath a car, or around a pole. Once you and your cat get used to the leash and the "signals" you deploy by using gentle tugs and stops, you'll find that your pet will become quite receptive and responsive to these gentle cues as you both get used to the walking experience.
While everyone's outside environment will be different, I do have some general recommendations to consider with regard to where you and your pet walk. For example, I purposely avoid allowing Ty to walk off the side of the sidewalk closest to the street. He knows that he can walk on the sidewalk, but he is just as aware that he is not allowed to go into the street. This is important not only with regard to your pets' safety while out walking, but also because there is always a chance for any cat to get outside by accident, and you want them to know what parts of their environment to avoid. I also steer Ty away from other animal excrement, dead or dying birds or other small animals. I DO let him chase after a squirrel now and then, or "stalk" a bug on the sidewalk. Cats love using their naturally keen eyesight and instincts to engage with the outdoors when given a chance, so try to keep in mind that what they are interested in when on the walk may not be what you are interested in. Also, don't expect your cat to walk the way a dog does. Don't try and train your cat to walk alongside you, or to walk briskly. Remember that it's all about "them" not you. Finally, I don't recommend trying to walk two or more cats at a time. While dogs can handle this arrangement to some extent, cats generally are not able to avoid getting entangled with each others' leash.
The topic of weather is worth addressing as well. Generally speaking, I encourage folks to walk their pet in most any kind of weather. Even when it's very cold, a quick brisk walk can help break up the boredom of a winter day. If it's drizzling outside, or even snowing, don't be afraid to proceed with your walk and to let your pet experience the elements. (My cat Ty is a bit hesitant at first if it's raining or snowing, but once he gets out in it, he enjoys himself.)
Finally, I'm often asked about how to handle an encounter with an unleashed dog or cat while out walking. My general advice is to first observe the animals with regard to how they are reacting to one another. If a dog rushes or attacks your pet, let your pet flee to a safe place. NEVER try to pick up a frightened cat with claws, as it will not make him feel safe and will likely result in blood loss for the human! If I am suspicious of a dog, I'll pick up Ty if he's still calm, and place him on a tree, or on the top of a car until I can better assess the situation. Again, cats know how to protect themselves when in danger—let them, if at all possible, handle the situation by escaping or posturing.
Of course, many cats are not afraid of other pets and enjoy interacting with them. Ty loves dogs, and will literally lay down and roll over when another dog (if leashed—I don't interact with unleashed dogs) walks past. He likes to sniff and touch noses with dogs, which is perfectly fine if both animals are calm and enjoying the encounter. Just be observant, and use your judgment. In the 10+ years we've been walking, we've never had a bad encounter with a dog or other animal, although we are frequently encountering them. Seeing a raccoon or possum while on our walk is not uncommon, and while I let him look, I never let him get close to them.
Our friend Betty
from Arkansas suggested I address the issue of your pet wanting to eat grass while out on a walk. Cats naturally love the green stuff, but as Betty noted, one has to be careful in considering whether the grass has been sprayed with chemicals to promote growth or to provide pest protection. Certainly, you wouldn't want your cat to eat recently sprayed grass. While the manufacturers claim that their products are safe for pets in most cases, I would suggest NOT letting your cats eat grass that has been sprayed recently until
at least
a few good rains have occurred. Again, like all of the suggestions here, use your best judgement! Betty also wrote a very good instructional piece, complete with pictures, on how to grow grass indoors for your cat to much on, and you can find it
here
.
TIME TO START THE ADVENTURE!
I hope that I've given you the information needed to get started walking your feline companion. If you found this article helpful, drop me a line
here
and let me know! You can see some videos of Ty and I out on our walks below.
I also hope that you'll take a look around our website. We make and sell "Kitty Peepers," which are cat window patios that fit into the window like an air conditioner, and offer another way to enhance the quality of life of indoor cats.
Click here for more information about our Kitty Peepers!
Copyright protected.
(2013)
All rights reserved. Linking to this article is permitted as is printing a personal copy, but copying it, printing for distribution, or posting it on another website or webpage is prohibited
Click the images above to enlarge them.