How to grow safe greens and grass indoors for your cat.

A Kitty Peeper customer recently shared her expertise on how to grow greens for indoor cats to enjoy. and we're posting it here so that everyone can offer their cat(s) some delicious grass! (article begins below)

If you arrived here from another site, please take a moment to review our Kitty Peeper Product!

To learn more about our Kitty Peeper window enclosures, watch our video! (click here)
or click here for more information!

---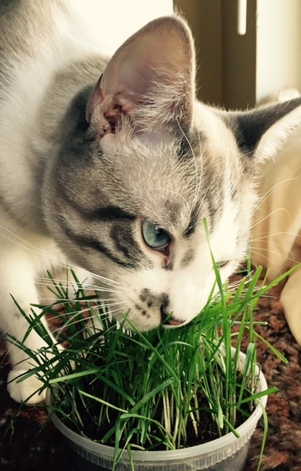 HOW TO GROW SAFE GREENS AND GRASS INDOORS FOR YOUR CAT
By Betty Roughton


Growing grass for your kitty is easy, inexpensive and your kitty will love it. The little extra time you invest in growing your own grass is worth the effort when you see your happy kitty munching away with his or her face buried in a patch of grass that is available whenever kitty wants it.


I first started growing grass for our Mitts when we were traveling. (We spent 23 years motor home traveling full-time on the road). We thought she wanted to be outside with us but discovered she really wanted a few sprigs of grass to munch on and didn't like being outside on a leash. I noticed little packages of seeds for kitty grass were available in pet stores and purchased one to grow using my own container instead of getting the kit which included a little dish container. Mitts loved it and for the rest of her 16 years she always had a dish of growing greens available.

Now that we have settled down and have kitty Simon with us (that's Simon munching on some grass), I continue to grow greens and grass for him to munch on, since they contain vitamins and enzymes that are healthy and also aid in digestion.

---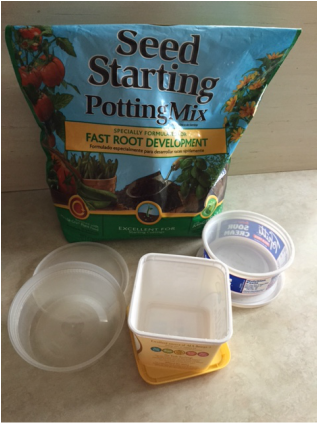 Here's the recipe for growing your own indoor greens/grass!


Save and use any little clean plastic container with a lid. Butter and sour cream containers work perfectly.

If you have a health food store with bulk products they usually have little plastic containers available. This is also where I sometimes get the seeds and organic ones are usually available. I have also found seeds at farm co-ops. I recently found a kitty grass mix containing the 4 seed mix in small packages at our local farm co-op for about $4. You can purchase them in packages, or, more inexpensively, buy seeds in bulk and mix them. They all sprout and grow pretty much at the same rate. You can also find packets of organically grown seeds on eBay for a very reasonable price. Just search for "cat grass seeds" on the site, and you'll find several choices.

---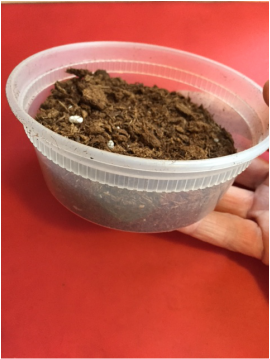 Fill the clean container about 2/3 full with potting soil as show in the picture to the right.

Moisten the soil, sprinkle seeds to cover (see the left pic directly below), add more potting soil to cover seeds, and moisten again (see right pic directly below).

---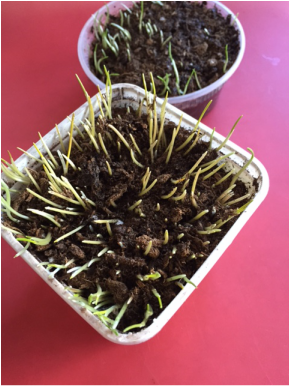 Snap the lid on, put container in a warm place ( I use my kitchen window sill, but a warm counter or any other place with a constant warm temperature will work as well).

In 3-4 days remove lid and if sprouts are an inch or so tall, leave the top off.

Check for moisture and add if needed until sprouts are about 2-3 inches tall. They will grow best in the sun.

---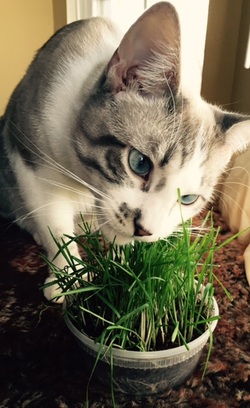 Now they are ready for munching!

Place near your cat's food or water dish.

You may want to spray a little water on grass occasionally and water when soil gets dry.

These greens will last a couple of weeks. Trim with scissors if they get about 4 inches and straggly.

I usually keep 2 dishes growing and alternate them between munching and growing on the window sill.

When they are chewed, straggly, and not lush any longer, dump out the soil in garden, composter, etc. I always use fresh potting soil for each new planting.

---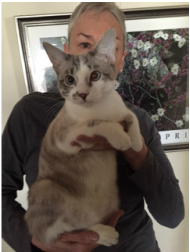 Thank you for reading!

Simon and I hope you make the choice to have an even happier and healthier kitty by having those good greens available.....it's easy!

---