CUSTOMER COMMENTS


Emil and Nancy and Phineus - New Jersey

We were anticipating receiving our Kitty Peeper since our cat, Phineus, is an "indoor-only," beloved, member of our family. Our home has many windows and Finny ( his nickname ) loves to run from window to window watching birds, deer and even a bear this Spring. We wanted to give him an outdoor experience while protecting him from cars, parasites, dogs and other cats.

Your product was the perfect solution. As soon as I placed the order I received an email explaining that the units are handmade to order and it would take a week to receive ours. The excitement mounted as we wondered if he would use it, or if it would end up like that motorized mouse toy we bought that sits unused in a drawer. The Kitty Peeper arrived this past Monday, it was easy to assemble (there is even a YouTube video with instructions) and I installed it in a second-floor window in minutes.

He looked at it for about ten minutes, we knew he would explore it on his own terms, (the old saying that you cannot herd cats is right on), but within ten minutes he was in the Kitty Peeper with his nose moving at a rapid pace exploring all of the new odors in the air. Last night I realized he was not in bed with us so I did some exploring. There he was sleeping in his new gateway to the outside world.



---

(click on the pictures to enlarge them)

I have recommended it to owners of cats in our family and could not be more pleased. I may buy two more for our two grown children; both cat owners. We plan on purchasing the wood cover so we can use it in the cooler months. It looks very handy.






Bill, Freddi, (and Shadow), Mesa, AZ

My wife Freddi and I are so impressed with the patio. I being an ex-machinist in research and development was so impressed with the workmanship on the window patio. Everything fits perfectly and it was very easy to assemble. We received it at 1:15pm and Shadow, our cat, was in it at 2:30pm!


---
Fran (with Bernie), Massachusetts

We just installed the Kitty Peeper today, in the freezing rain, and Bernie was in there for two hours! I think it's a hit! The unit is perfectly constructed with excellent, sturdy materials that look like they'll hold up for a long time. The first pic shows Bernie enjoying his new patio, and the second is an "action" shot. Thanks so much for your personal service!


Cathy, Tim, and Sophie with Souppy
Northville MI

Souppy is a handsome boy cat. We adopted him from the Huron Valley Humane Society almost two years ago. He always wanted to go outside and we would let him until recently, when he came home wounded from fighting with other animals. Our vet recommended to keep him indoors to protect him from getting hurt and from getting parasites. He would cry and cry to go out. He was meowing us crazy.... with research, we found Cats With An Altitude and now everyone is happy. He is content in his cat patio. We put a chair near the patio entrance to help him in and out. Removes easily to shut the window at night. Looks nice in the window and Souppy is sooo happy! I would like to add how quickly we received the patio. Great communication with the emails. Thanks again!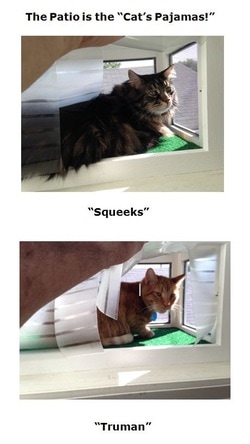 Gary and Diane (with Squeeks and Truman)
Washington, Missouri

We recently ordered a Kitty Peeper for our kitties and just wanted to thank you. Our two cats, "Squeeks" and "Truman" both "discovered" it soon after it was installed in a living room window, and now they (sort of) take turns enjoying the outside air and neighborhood view. You truly created a very feline-friendly product and we appreciate having it for the critters. We had a large screened-in porch at our last house and they spent most of the day out there. We moved recently, however, and the new house won't easily accommodate a screened-in porch. So, the Kitty Peeper is a great substitute. We may end up ordering one for each window!
We also greatly appreciate the ease of installation. Great for seniors like ourselves. Enclosed is a photo of Squeeks and Truman enjoying the new Kitty Peeper cat patio. Best wishes!


---








David and Walker, Rochester NY

Here's a few pics of Walker enjoying his "catio." He loves hanging out and watching the activity on the street. Thanks for helping to make his life more interesting!

CWAA note: This is a good representation of our small Kitty Peeper, which are ideal for smaller windows. Even bigger size cats can enjoy them!


Maria with Lulu Belle and Sweetie Pie
Glenn Cove, NY

I'm really happy with your product and my cats are liking it too! It took a day or two for them to get adjusted to their new patio, but Lulu especially enjoys watching the birds.





Sarah and Gizmo, Madison WI

The Kitty Peeper arrived and was a breeze to install! I ordered it for my little special-needs kitty. He has cerebellar hypoplasia and wobbles all over so he lives in our spare bedroom for safety. I put this in the window and some pet stairs up to it. He loves the Kitty Peeper! He likes to watch all the birds and the people walking by and it is nice and sturdy. I originally saw the Kitty Peeper when I googled "cat patio" and was looking for some sort of window or outdoor enclosure for my cats. I've told some of my friends about it already! Thanks!


Reine, Panama City, Florida

I received the Peeper the day after you shipped it. I was very impressed by the construction and ease of installation. I've enclosed a few pictures, any or all of which you are welcome to use on your website. I love the new Peeper, and my tabby kitten was in it within five minutes after I opened the door after installing it!.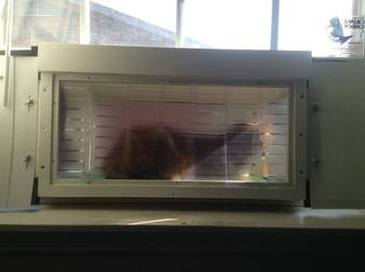 Jene' and Gus, Lexington KY

Gus is the king of his castle, but he's strictly an indoor cat. He loves windows, though, and he loves looking outside. Now that he has a Kitty Peeper, he gets the best of both worlds! He's safely inside his castle, but he gets a taste of the outdoors where he relaxes in what I think of as his own personal screened in porch. I love the fact that I can give him that outdoor experience without having to worry about his safety. The Peeper is great, too, because it gives him another "private space" where he can go and relax without feeling like he's being observed. He loves his Kitty Peeper and I love having it around for him!


---






Jim and Jameson, Strasburg, Illinois

The Kitty Peeper arrived today. Set-up was easy and it went in like a champ. Jameson went right for it! Feel free to use these pics on your website. Nice product. I wish you guys the best!

Amy and Ray Ray (pictured below), Westminster MD

I just received my Kitty Peeper window patio and we could not be happier! My fiancee and I just finished installing it and I can barely keep Ray Ray out of it! He's in it like 16 hours a day! Thank you so much! Keep doing what you're doing. You guys are awesome!

Jason and Morris, Atlanta GA
My cat lives in his window patio!. I'm a medical student and felt a bit guilty about leaving my cat Morris alone for so long each day. We live on the second floor of a large apartment complex. I purchased a window enclosure about a year ago, and Morris loves it. In the warmer months, he sits in his box nearly all night long, and even sleeps in it like a kid in his pup tent in the backyard! In the cooler months, he spends just as much time in the box, although preferring the warm sun during the day to the cooler air at night. He also loves to watch the activity outside (we live in off-campus housing) in the evening year round.

It's a relief to know he has an opportunity to enjoy a bit of the outdoors and to get some entertainment while I'm not home, which is more often than I would like. The patio flaps really keep the heat (or cold air) from entering the room, and I haven't noticed any change in my AC or heating bills. Morris and I couldn't be happier! Thanks CWAA Crafts!





Kimberly With Carly

Here's a really cute video of darling Carly enjoying her new window to the world!


Carmen and Nickelby, Bronx, NY
Nickelby and I are loving his new hang out. He especially enjoys it in the evening. I love how clean and sleek it is and the peace of mind knowing he is "hanging out" late at night in a safe place. Thank you, thank you, thank you!!





Thelma and Ms. Kitty, Huntsville, TX
I received my order yesterday and installed it in little time. My cat loves it, and stayed in it all night. She loves going outside, but after losing one of my cats I've not been letting her go outside. So glad I found your product! Here is Ms. Kitty in less than 30 minutes of being introduced to the Kitty Peeper. Feeling right at home I would say :)

Dave and Gail with Max, Dexter, and Boogie, Shaker Heights, OH

Just an update to let you know how the "Florida room" (as my husband calls it) is working out. We've had our Kitty Peeper for 3 years, now, and our boys (Max, Dexter, and Boogie) love it! It goes in when the winter weather breaks for good, and only goes down when it gets really cold. We have it on the shady side of the house so the boys can use it, and added a bird bath and a bird feeder near it to torture....er, I mean give the boys something to look at. While they are supposed to take turns, Boogie (who is small) still tries to squeeze in with either Max or Dexter. Max sleeps in it for hours - even at night - during warm weather. Boogie isn't the sharpest knife in the drawer, but he has figured out that if he starts picking on whoever is already in the box, that cat (Max or Dexter) will hop out to beat his fuzzy butt, but he immediately slips into the just-vacated box, leaving the other one trying figure precisely what went wrong. I recommend it to all my friends who are owned by cats.


Marion and Olive, Milwaukee, WI
Olive loves her new porch. She's an indoor kitty, but our apartment has many windows so we placed it in her favorite spot. She enjoys sitting in her peeper in the mornings and watching the birds and neighborhood goings-on. We like that she can have a spot to sit that is protected from the weather - it's much better than leaving a window open for her. We have had the patio in for heavy storms and hail and haven't had any leaks or problems with it. Installation was as easy as they say, and secure. Thanks!
Pam and Fern, Chesterton, IN
The Kitty Peeper patio is perfect for our shy little kitty Fern. She sits in it all day watching the world go by. She is comfy pretty much year round except for the coldest months. Easy to get in and easy to get out of the window. It's light and well built. We have been using it for over two years and it is still in great shape. We love it!
Janet and Rosco, Colonie NY
My cat, Rosco, absolutely loves his new window patio. I call it his "screen house." Since putting it in the window, he spends most of his awake time in it and I've also found him napping in the sun. This has completely solved the problem of him wanting to go outside. He is able to watch people, children, dogs, cars, trucks, birds, squirrels, and other animals, keeping him amused and content in his Colonie, New York home. The fact that it is easily removable in stormy weather is a real plus.
Mary Jo, Cincinnati OH
I've been rescuing cats for 10 years now. I stumbled across this website trying to find a good solution to let them experience outside safely. My cats ABSOLUTELY love it! They all take turns sunning themselves in it during the day. It was easy to install and from the outside looks like nothing more than an window AC unit. I am really impressed with this product and I can see my cats enjoying it for years to come.

Frances and Charlie, New York City, NY
I live in New York, NY and recently purchased the large model for our Norwegian Forrest cat, Charlie. I live on the 5th floor and have been searching for a safe way to let him experience the outdoors and beautiful city views. He probably enjoys watching the pigeons more than anything though! Since getting the patio, he is also noticeably calmer, probably because he is a single cat and this gives much needed entertainment while I'm at work. Ordering was easy. The quality of the patio was outstanding and installation was a breeze. I would recommend this product to any small animal lover.