What to consider when choosing between the Flap entryway models (available in both large and small units for up/down and sliding windows) and the Plexiglass entryway model with cat door model (available for large up/down window units only right now)
Call us with any questions about these options! 859.379.8226

The flap system entryway.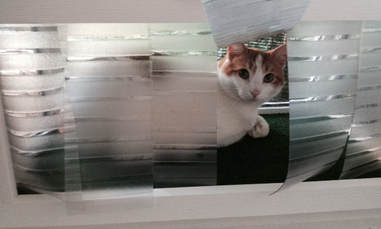 Our most popular entryway system. There were several considerations that went into the entryway design for the Kitty Peeper. First, we had to create an entrance that a cat could enter and exit easily, even from a relatively narrow window sill. Second, we had to design something that would diminish air flow back into the room. Finally, we wanted to have an entryway that would afford the cat a sense of privacy (cats like that) while giving their human companions some visualization.,
Our overlapping flap system provides the perfect solution for all of these needs. The overlapping flaps allow the cat to enter the enclosure from virtually any angle--perfect for narrow window sills. In comparison, actual swinging pet doors require cats to enter at a relatively straight-on angle, and we wanted to avoid that problem.
The entryway flaps are mounted from the inside, and are fitted to extend slightly below the bottom lip of the entryway. This diminishes air flow from coming in from the outside in general weather conditions. In environments where the average temperatures can be quite cold at times, we also sell the
Kitty Peeper Cold Weather Panel
that snaps on to the front of the Peeper, further blocking air flow. Generally speaking however, from our own experience, and those of the customers we've talked to, suggest that using the Peeper year-round doesn't raise heating or A/C bills.
While the cat can feel a sense of privacy while lounging in the Kitty Peeper, humans will still be able to see their pet through the flaps, similar to what one sees when looking through a frosted shower curtain. It also allows your cat to "monitor" the interior room as well, without feeling closed off while inside the patio.
---
| | |
| --- | --- |
| The Plexiglass and cat door entryway | --- |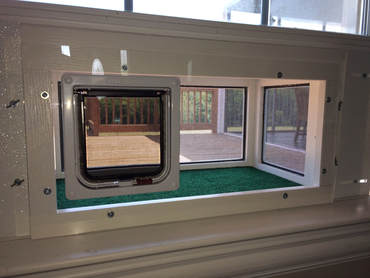 The Plexiglass front and cat door model is currently only available for our large Kitty Peepers. It's an ideal solution for folks who live in colder environments, or wish to block out any residual airflow back into the room.

While considering this model, please take into consideration the window sill width, as a cat will need a window sill of at least 5 inches to properly enter the cat door. Alternatively, if the cat has something in front of the Kitty Peeper to stand on in order to enter, this works fine as well.

Also consider whether your cat will comfortably use a cat door. The cat door opening is 6.5 inches high, and 6.25 inches wide--big enough for most cats, but if your cat is very large, this is probably not a good option. Most cats can easily be trained to use the cat door in a few days, by first securing it open to let them familiarize themselves with the Kitty Peeper, then closing the door once they are inside so that they learn to push it open with their nose or paw. We provide complete instructions for getting your cat acclimated to its new window to the outside!

---