---
Once you choose an item it is added to your cart. You can view your cart by clicking on the "Cart" tab from the tabs on the upper left of your screen.
IF YOU CAN'T SEE YOUR ITEM IN THE CART AFTER ADDING IT, PLEASE CLICK HERE
Kitty Peeper Order Page for up/down windows


NOTE:
The shipping costs listed on this page reflect our costs to ship to your region only!
We don't charge you a penny more than what it costs us to ship!
The order button reflects both the item cost (the same for all customers) and the shipping cost (based on your region)
totalled together. On the check out page, simply confirm your zip code, and the check out screen will update with a zero
amount for shipping.
We reserve the right to suspend any order that was not processed through the correct regional order page, so be sure to start your order from the order home page
here
!
If you were directed to this page by another customer or feel you may have chosen the wrong state to begin your order, simply start over using
this link
If you have any difficulties with the order process, please call us at 859.379.8226 or contact us
here
, and we'll make it right!
(You can also
visit this
page for a detailed guide to the Check out page)
YOU DON'T NEED A PAY PAL ACCOUNT TO SHOP WITH US!
We accept credit and debit cards, as well as Pay Pal
---
The Kitty Peeper Window Patio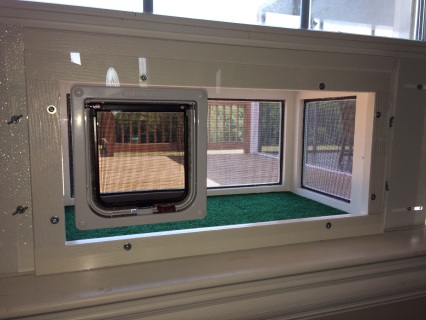 Model KPDeluxe-24 Deluxe Kitty Peeper with Plexiglass Front and Cat Door
For Single or Double-Hung (up and down) Windows with an inside width between 26 inches and 38 inches.

Our Standard Kitty Peeper complete with a PLEXIGLASS FRONT AND CAT DOOR. Each unit comes with a ready-to-go patio, complete instructions, and adjustable, expandable side panels to fit open window widths up to 38 inches. Measures 24 inches in width, 13 inches deep with a height of 13 inches. Weight is apx. 16 pounds. Cat door opening is 6.5 inches high, and 6.25 inches wide.

Kitty Peeper Cost $261.09 Shipping $48.41 Total cost: $309.50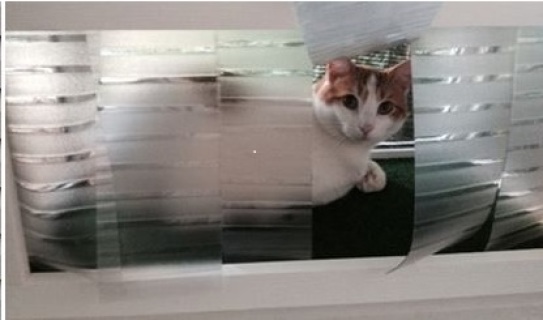 Model KP01-24 Kitty Peeper Window Patio Enclosure for Cats Size (Large)
For Single or Double-Hung (up and down) Windows with an inside width between 26 inches and 38 inches

Our most popular model!
Our standard large Kitty Peeper model WITH FLAP ENTRYWAY. Each unit comes with a ready-to-go patio, complete instructions, and adjustable, expandable side panels to fit within the inch range specified above. Measures 24 inches in width, 13 inches deep with a height of 13 inches. Weight is apx. 15 pounds.

Kitty Peeper Cost: $192.00 Shipping Cost to your state: $48.41
Total cost: $240.41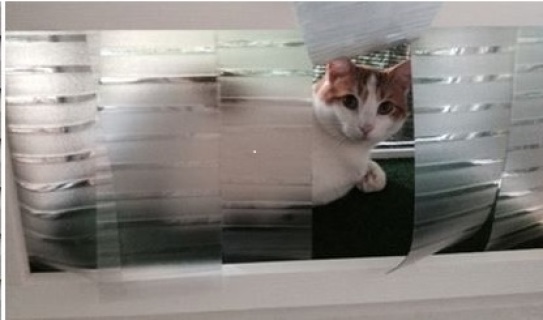 Model KP01-18 Kitty Peeper Window Patio Enclosure for Cats Size (Small)
For Single or Double-Hung (up and down) Windows with an inside width between 20 inches and 32 inches

Our standard small Kitty Peeper model WITH FLAP ENTRYWAY. Each unit comes with a ready-to-go patio, complete instructions, and adjustable, expandable side panels to fit within the inch range specified above. Measures 18 inches in width, 13 inches deep with a height of 13 inches. Weight is apx. 13 pounds.

Kitty Peeper Cost: $177.00 Shipping Cost to your state: $48.41
Total cost: $225.41

---
---